CEREC is "Chairside Economical Restoration of Esthetic Ceramics."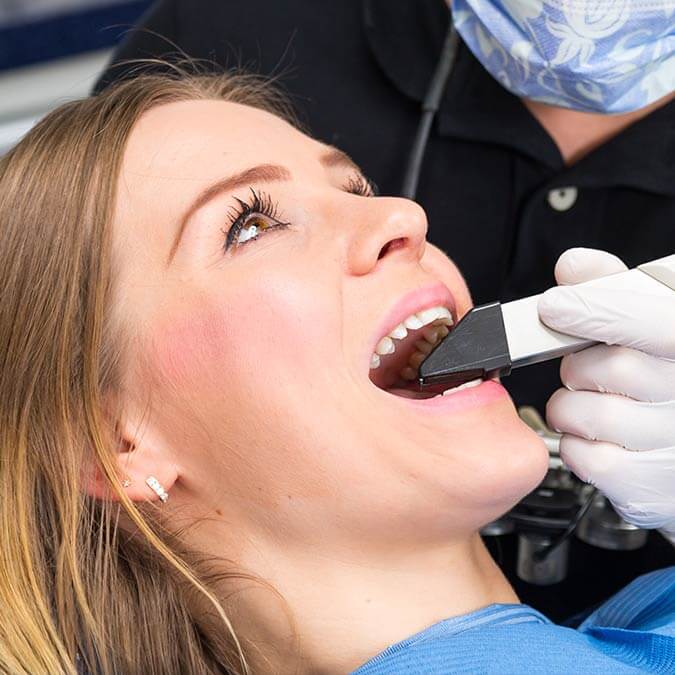 Before CEREC crowns, the idea of getting a new crown was enough to fill people with absolute dread, and for good reason. Not only was the process costly and time-consuming, but it also meant having to put up with ill-fitting temporary crowns. And who can forget that awful sticky substance your dentist used to get an impression of your teeth?Thankfully, dentistry has come a long way, and nowadays patients can choose Chairside Economical Restoration of Esthetic Ceramics or CEREC, which is more affordable, far more accurate, and the best part: there are no delays while you wait for your crown to come back from the laboratory.
But what exactly is CEREC? And what makes the process different from traditional crowns? Unlike outdated crowns which need several visits to the dentist, a week or two of discomfort with a temporary crown and the possibility of the permanent one not fitting correctly, CEREC crowns can be done in one day, using state of the art technology.
With one single appointment, your dentist is able to take an accurate 3D impression, upload all the necessary information, and craft your new crown while you wait.
And there's not a single tray of gag-inducing globby goop in sight.  Clever, right?
What are the Benefits of Same Day CEREC Crowns.
Not that you need too much convincing, we have put together a list of the 10 key benefits of CEREC crowns. Let's take a look at what these are.
1.

Same day crowns are more convenient.

In the past, getting a new crown meant a couple of visits to the dentist as well as having to wait a week or two for it to arrive back from the lab. CEREC crowns can be made and fitted in one visit, which means you can be flashing that million-dollar smile the same day.
2.

They are more affordable.

Talking about a million-dollar smile, a CEREC crown is far more affordable than traditional crowns. Fewer visits to the dentist are needed, and costly laboratory services are taken out of the equation. The state-of-the-art technology also ensures the crown will fit perfectly the first time around, which means no follow-up visits and additional expenses.
3.

They are more accurate than traditional crowns.

In the past dentists used a putty-like substance to create an impression of your teeth. This was then sent to the laboratory, where a dental technician would make up your crown. With a CEREC crown, the possibility of any human errors being made is almost completely eliminated, which means your new tooth is likely to fit perfectly the first time.
4.

No need for temporary crowns.

Let's face it, one of the biggest disadvantages when it came to the old school process was the temporary crown. Not only did it look awful, you would also have to be incredibly careful with what you ate. With CEREC same day crowns you can be chewing on that juicy piece of steak a lot sooner.
5.

No more messy impressions.

I love that pink glop dentists use to make a mold of my teeth, said no one ever.  Not only is it yucky, it is also one of the major causes of discomfort when getting a crown made. But not when you choose a CEREC crown. State-of-the-art technology is used to create an impression of your teeth, which is a lot less invasive and as far as we're concerned one of the biggest benefits.
6.

CEREC crowns are quick and easy.

Yup, if  quick and easy is on your list of priorities, then CEREC crowns are the way to go. In just one day, your dentist is able to render a 3D model, which is then uploaded and sent to a milling machine—while you're sitting in the dentist's chair. The crown is fitted, and if any adjustments are needed, they're done right there, without you having to make umpteen appointments.
7.

CEREC crowns are durable.

If you think CEREC crowns are less durable or not as good as traditional crowns, we're here to let you know that this is not the case. They are made from high-quality ceramic resin that, with the right care and maintenance, will last as long as those crowns made in a laboratory.
8.

CEREC crowns look as good as your own teeth.

We love that CEREC crowns look completely natural compared to crowns as we know them. This is because in the past they were made using gold or porcelain, which was then bound to a metal frame. This process affected the finished product, leaving you with unnatural looking teeth. CEREC crowns, on the other hand, are made using porcelain that reflects the light as it should which means a more natural looking smile. Also, you can tweak the color of the crown to suit the rest of your teeth, which is a huge plus.
9.

CEREC crowns offer a customized fit.

It is important that your dentist keeps the remaining tooth as healthy as possible, which is why the crown should fit as accurately as possible. A bad fitting crown will also affect your bite, which can lead to a number of issues down the line. The precision of the technology used when creating your new crown tooth plays a major role, which is why more people are choosing to go this route.

For us, it's a no-brainer. CEREC crowns are convenient and cost-effective, which means you save time and money. They are also durable and resilient, which means your dentist can save your smile with a same-day crown that isn't only accurate, but it's also far more natural looking.
Frequently Asked Questions
Typically, most insurance providers won't cover cosmetic dentistry treatments because they're deemed a personal choice rather than a necessary medical procedure. In some cases, providers may pay a portion of the cost if cosmetic treatment is needed to complete a restorative procedure.
At Reimage Dental Studio, our Scottsdale dentist works with CareCredit and is the preferred provider for Delta Dental. No matter what your financial situation is, our dental team will work with you to ensure you get the care you need. If you have any questions, call our office at (480) 359-3513.
If you're suffering from chipped teeth, our Scottsdale cosmetic dentist may recommend porcelain veneers. Porcelain veneers are a fast and natural-looking cosmetic solution that covers several dental imperfections. Dr. Call will assess your tooth's damage and help you determine which treatment is best for your needs.
Choose Dr. Call For Expert Cosmetic Dental Treatments
Ready to begin your journey to a more beautiful and confident smile? Dr. Call, your Scottsdale, AZ cosmetic dentist, and our entire Reimage Dental Studio team will help you find a treatment that addresses your worries and works with your lifestyle. Schedule an appointment at our Scottsdale office by calling us today at (480) 443-3552. You can also fill out our convenient online contact form to schedule an appointment online.