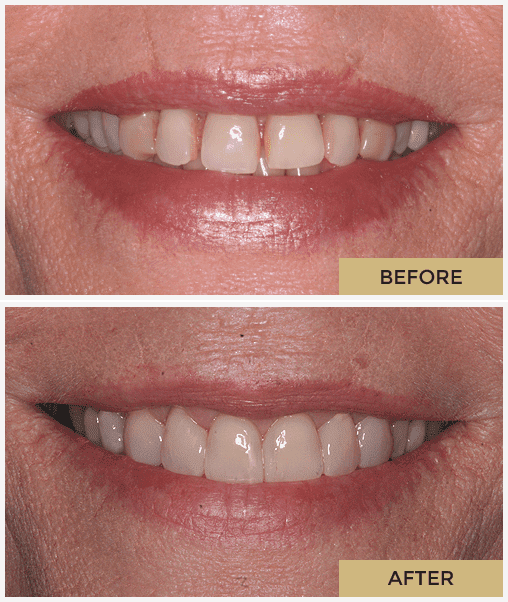 Achieve a Perfectly Aligned Smile
Living with a crooked smile that negatively affects your self-esteem can be draining. Oftentimes, patients avoid visiting the dentist for a solution to misaligned smiles due to the idea of wearing clunky metal brackets and wires. Luckily, Scottsdale dentist, Dr. Call, at Reimage Dental Studio offers Invisalign to discreetly and comfortably straighten your beautiful smile.  
Discover how Invisalign can benefit you and your smile by reading our patient-friendly guide below. 
What Is Invisalign?
Invisalign is a transparent alternative to traditional metal braces. This treatment utilizes custom-created clear aligner trays to gently and gradually shift your teeth into proper alignment over 12 to 18 months. Invisalign can be easily removed for eating and drinking as long as you wear them for at least 20 to 22 hours a day. 
Our Scottsdale cosmetic dentist can help treat the following dental conditions with Invisalign:
Crossbite

Overbite

Underbite 

Overly crowded teeth

Large gaps between teeth

Benefits of Invisalign
Invisalign is a patient favorite due to the variety of unique benefits it offers. When you choose Invisalign, you'll receive the following advantages:
Faster Treatment Time

: Patients can receive a complete treatment with Invisalign in as little as 12 to 18 months, almost two times faster than metal braces. 

Discreet Appliance

: Unlike braces, Invisalign is a clear, nearly invisible approach to straightening your smile. You can continue to enjoy your daily activities with discreet aligner trays with no one even noticing.

Maximum Comfort

: The thin, flexible material of your aligners won't irritate your soft tissue the way metal braces typically do. 

No Dietary Restrictions

: Since your trays are easily removable, you can enjoy all of your favorite foods without the worry of food getting trapped under brackets. 

Fewer Appointments

: Dr. Call will curate your customized treatment from the very beginning, meaning you'll have the luxury of fewer visits to the dentist. We'll use advanced 3-D computer-imaging technology that allows us to compare the initial position of your teeth to their completed desired position. 
Our Invisalign Treatment Process
Your journey to a straighter smile can be completed in just three easy steps. 
First Consultation 
To begin, you'll visit our Scottsdale dental office for your initial consultation with Dr. Call. During this appointment, we'll start by discussing your smile goals, evaluating your orthodontics issues, and answering any questions you may have. If you decide Invisalign is a perfect choice, we'll take highly accurate impressions of your teeth to create your custom series of aligners. 
Wearing Your Aligners
Your smile will be straightened by wearing your Invisalign clear aligner trays. You'll receive a series of custom trays that will be swapped out every two weeks. Each set of trays is specially designed to influence certain teeth into proper alignment. To achieve your desired results, you'll need to wear your aligners for at least 20 to 22 hours a day, only removing them for eating and drinking. 
Smile Confidently 
Depending on your orthodontic condition, Invisalign typically takes about 12 to 18 months to complete. However, it's common to start seeing results within the first few weeks of your treatment. Our dentist will closely monitor your progress and make adjustments if needed. Once complete, you can enjoy all the wonderful benefits a straight, beautiful smile provides. 
Invisalign Care
To get the most out of your Invisalign treatment, it's important to properly care for your aligners and oral hygiene. We recommend following these guidelines:
Swap

out your aligners every two weeks. This allows your teeth to continue shifting into the proper position. 

Rinse

your aligners off every time they're removed. This helps the aligners remain clean and free of bacteria and food debris. 

Soak

your aligners in a cleaning solution.

Always clean

your teeth regularly. Brush twice a day, floss daily, and rinse between meals to reduce the risk of cavities developing and help stop the spread of bacteria.

Brush

your aligners whenever you remove them. Make sure to use a soft-bristled toothbrush to avoid scratching your trays.

Remove

your aligners when eating and drinking (except water). Food and drinks can stain or damage your aligners, possibly setting back your treatment.
Frequently Asked Questions
Invisalign aligners are customized to fit your mouth comfortably, meaning you won't endure painful bracket adjustments or metal wires poking at your gums from traditional braces. It's common to experience some mild discomfort when you first start wearing each new set of aligners. As your teeth adjust to each set, the discomfort should fade within a few days. 
Some patients may be able to switch from traditional metal braces to Invisalign during treatment. Your candidacy will depend on your oral health needs and Dr. Call's recommendation. While Invisalign can treat many misalignment issues, some situations make metal braces the superior choice.
Schedule a consultation for Invisalign to determine whether it's the best orthodontic solution for you moving forward. After we take 3D scans and assess your case, you'll know whether switching to Invisalign is the right decision for you.
Achieve Your Dream Smile at Reimage Dental Studio
We know that living with a crooked smile isn't ideal. That's why our Scottsdale dentist Dr. Call provides Invisalign to help patients achieve their dream smile along with pristine oral health. To schedule your Invisalign consultation, call our Scottsdale office at (480) 443-3552. You can also fill out our online contact form and one of our team members will get back to you shortly. Cosmetic dentistry at our Scottsdale office is performed by our expert dental team, so you can rest assured knowing you're in good hands!