What Are Porcelain Veneers?
Porcelain veneers, also known as dental veneers, are thin, durable tooth covers designed to give teeth a more classically shaped look. If you've ever wanted to reshape your smile, dental veneers might be the solution for you. Our Scottsdale dentist, Dr. Call, will ensure your restoration is durable and natural-looking. With one simple cosmetic dentistry procedure, you can greatly improve your confidence and achieve the smile of your dreams. 
The Benefits of Porcelain Veneers
The size and proportions of your teeth can impact the appearance of your smile. With dental veneers, the teeth are reshaped to cover chips, gaps, and misalignments. The procedure has an extremely high satisfaction rate, with many of our happy patients achieving the smile of their dreams in our Scottsdale office. 
The top benefits of dental veneers include:
Cover chips, cracks, and discoloration in teeth. 

A natural look and feel.

Prevent tooth discoloration.

Increase confidence. 

Easy to maintain. 

Non-invasive procedure.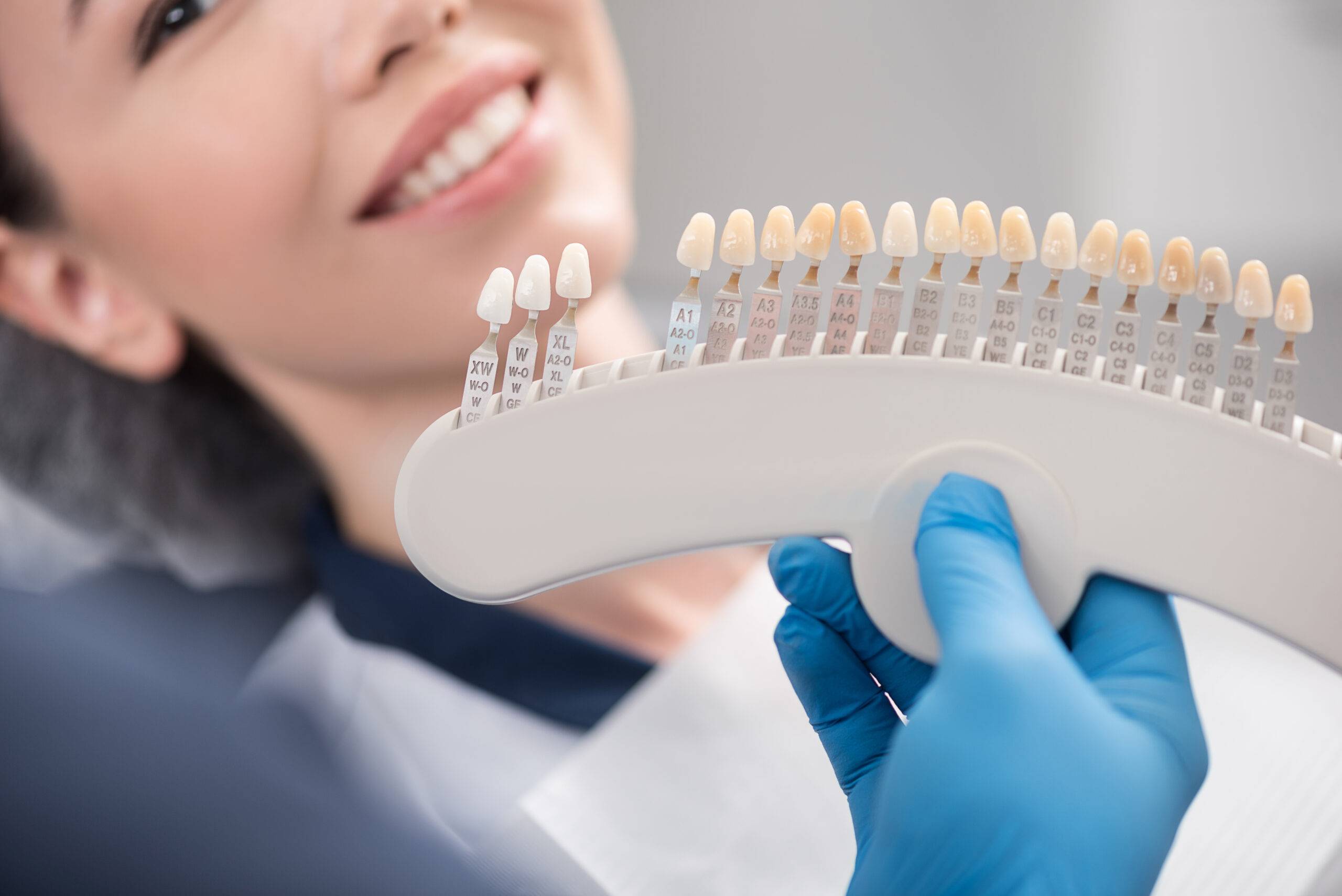 Dental Veneers and Smile Beautification
Your natural teeth will often chip, break, or yellow over time. While poor dental hygiene can contribute, your age, genetics, and everyday eating and drinking habits are also a factor. Porcelain veneers can give you a bright white smile and transform your teeth. They're often used to:
Mask

permanently discolored teeth

Reshape

misshapen teeth

Treat

misaligned front teeth

Fill

gaps between teeth

Increase

the length of the crown
Our patients are often surprised by the difference dental veneers can make in the way they look and feel — and they're also pleasantly surprised by how easy the procedure is. Porcelain veneers have an extremely high patient satisfaction rate.
The Porcelain Veneers Process 
After your consultation with Dr. Call, you'll be ready to schedule your porcelain veneer procedure. First, a small portion of your tooth enamel layer is removed to make room for the veneers. Dr. Call will take impressions of the prepared teeth and create temporaries at our Scottsdale office. The temporary veneers will cover your teeth until your next visit, giving skilled lab technicians time to design your permanent veneers.
During the following visit, our Scottsdale cosmetic dentist will remove the temporaries, clean your teeth, and bond your dental veneers over your natural teeth. Follow-up care will be provided to you at that time. While porcelain veneers don't last forever, you can enjoy them for many years before they'll have to be replaced as long as you properly care for your teeth.
Frequently Asked Questions
With proper care and maintenance, porcelain veneers can last up to 15 years before needing to be replaced. Dental veneers can withstand your daily activities, but despite their durability, they may wear down over time and need replacements.
To get the most out of your cosmetic restoration, you should practice good oral hygiene through daily brushing and flossing. We also recommend that you schedule biannual appointments with our Scottsdale cosmetic dentist for routine dental exams and cleanings. Regular dental visits will help keep your restoration and oral health in prime condition.
The cost of porcelain veneers depends on several factors determined in your personalized treatment plan, such as your oral health and how many porcelain veneers you received. Dr. Call will provide you with a cost estimate of your treatment at your initial consultation.
We recommend contacting your dental insurance provider beforehand to discover what your plan covers. You can also visit our payment and insurance page to learn more about our flexible payment methods.
Not at all! Receiving porcelain veneers is a safe, virtually painless process. Our cosmetic dentist in Scottsdale will administer a local anesthetic beforehand to ensure you don't feel any pain while he works. We also offer sedation dentistry methods for patients with dental phobia.
It's normal to experience mild soreness once the numbness subsides, but any pain should fade within a week or two. You can use over-the-counter pain medications to alleviate discomfort in the meantime.
Porcelain Veneers With Our Scottsdale Cosmetic Dentist
You deserve to have the smile of your dreams. Call our office today at (480) 443-3552 to schedule a consultation with our dental team to learn more about porcelain veneers and our Scottsdale cosmetic dentistry treatments. You can also get in touch by filling out our online contact form and we'll get back to you right away.