A Permanent Solution to Tooth Loss
Missing teeth can make it difficult to take pride in your smile. Smiles have the power to make lasting impressions, and that can be hard to do with an incomplete set of teeth. You may even experience problems chewing and speaking with ease and comfort.
You don't need to live without a full set of teeth. Dental implants offer a natural-looking, permanent solution to tooth loss. You deserve to smile, speak, and enjoy your favorite foods with confidence.
At Reimage Dental Studio, Scottsdale dentist Dr. Brent Call is proud to offer various implant treatments for your convenience. We're proud to provide expert dental care and service to patients in the Scottsdale, Phoenix, and Tempe, AZ areas.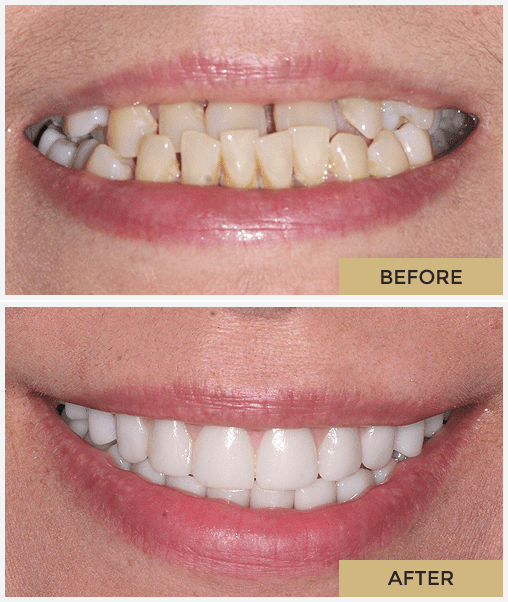 What are Dental Implants?
Dental implants are sturdy titanium posts inserted directly into your jawbone for a durable and lifelong solution to tooth loss. After the titanium post is securely in place, a natural-looking dental crown can be mounted on top to restore the tooth above the gumline.
Implants mimic tooth roots, helping to prevent jawbone deterioration. When jawbones don't receive necessary stimulation from tooth roots, they'll begin to deteriorate, leading to a sunken appearance. This and many other benefits are how implants earned the title of the gold standard of restorative dentistry.
Benefits of Dental Implants
There are several reasons why dental implants are the most sought-after form of tooth restoration. Some benefits of dental implants include:
Natural Look and Function: Implant restorations look and act like natural teeth, so you can speak, chew, and smile with confidence.
Durability and Longevity: Implants are a durable solution to tooth loss that can last a lifetime with proper care and maintenance.
Promotes Jawbone Health: Because implant fixtures mimic tooth roots, you won't have to worry about jawbone deterioration or other problems.
Easy Maintenance: Implant restorations can be cared for like natural teeth. Simply brush twice a day and floss once a day to keep them in good condition.
Candidacy For Dental Implants
Patients who want a sturdy and reliable solution for tooth loss may benefit from dental implants. Dr. Call may recommend implants to patients struggling with:
Ill-fitting dentures or bridges
Irreparably damaged teeth due to dental trauma
One or more missing teeth
Severely decayed teeth
If your jawbone has atrophied too much from tooth loss, Dr. Call may recommend bone grafting as a complementary treatment to prepare you for dental implants.
If you have gum disease or another underlying oral health issue, we'll provide treatment before placing your implant. Patients that are pregnant will need to wait until after their pregnancy to move forward with dental implants.
Our Dental Implant Solutions
At Reimage Dental Studio in Scottsdale, dental implants aren't treated like a one-size-fits-all treatment. That's why we offer a variety of implant restorations, including:
Single Implants: A single implant fixture used to replace a missing tooth, typically topped off with a dental crown.
Teeth-In-A-Day: A special dental implant procedure that lets you replace a full arch of teeth in just one appointment.
All-on-4: An implant solution similar to dentures that only requires the placement of four dental implants.
The Dental Implant Procedure
Initial Consultation
You'll first attend a consultation with our dentist Dr. Call, where he'll determine if dental implants are right for you and if you're eligible to receive them. He'll work with you to create a personalized treatment plan based on your individual needs.
Creating Your Implants
Most patients can receive their implant restorations in as few as two visits to our Scottsdale office. Our onsite 3D imaging technology also allows us to take in-depth images of your jawbone to find the best placement site and map out a treatment plan that will provide the best results.
At your first appointment, Dr. Call will begin by administering a local anesthetic to ensure you don't feel any pain during the procedure. We also offer dental sedation methods for patients with dental anxiety or difficulty getting numb from anesthesia alone.
Once the numbness sets in, Dr. Call will insert your implant directly into your jawbone. He'll then place a temporary crown to protect your implant site while osseointegration occurs. This is the process in which your implant fixtures fuse to your jawbone for a lifelong restoration. Osseointegration typically takes four to six months to complete.
Placing Your Implants
You'll return to our Scottsdale office after your mouth has healed from your implant procedure. Dr. Call will remove your temporary crown and place your customized restoration. He'll ensure that whatever restoration you choose will be customized to seamlessly blend in with your natural smile. Once Dr. Call places and fixes the restoration into place, you're free to leave our Scottsdale office with a beautiful, functional smile!
Frequently Asked Questions
Not at all! Receiving dental implants is a virtually painless experience thanks to local anesthesia and your option of dental sedation. Dr. Call will work to ensure your implant procedure is as painless and stress-free as possible.
You may experience mild discomfort after the numbness fades, but any pain should fade within a few days. In the meantime, you can use over-the-counter pain relievers and cold compresses to alleviate any soreness.
The exact cost of your dental implant procedure will depend on several factors, such as which type of restoration you receive. Dr. Call will provide you with a cost estimate at your initial consultation. We recommend contacting your dental insurance provider to learn what coverage your plan offers ahead of time.
You can also visit our financing page to learn more about our wide range of payment options. We also accept several Insurance PPOs, such as Delta Dental. Our staff is also happy to help ensure you receive the maximum benefits from your dental insurance plan. To learn more, call our Scottsdale office at (480) 443-3552.
Dental implant fixtures are designed to last a lifetime, but your restorative dental crown may need to be replaced after 15 years. To get the most out of your restoration, it's essential to practice good oral hygiene. This includes brushing twice a day and flossing once a day.
We also encourage patients to schedule biannual visits to our Scottsdale office for routine dental visits. Regular dental exams and cleanings can help keep your implant restoration and oral health in optimal condition.
Let Our Scottsdale Cosmetic Dentist Restore Your Smile
Ready to take the next step in restoring your smile with dental implants? The entire team at Reimage Dental Studio understands the severity of tooth loss and is here to help. Schedule a consultation with Dr. Call at Reimage Dental Studio today by calling (480) 443-3552 or filling out an online contact form. At our office in Scottsdale, dental implant cases are always handled with the utmost care and precision.